Recessed Lighting San Diego, CA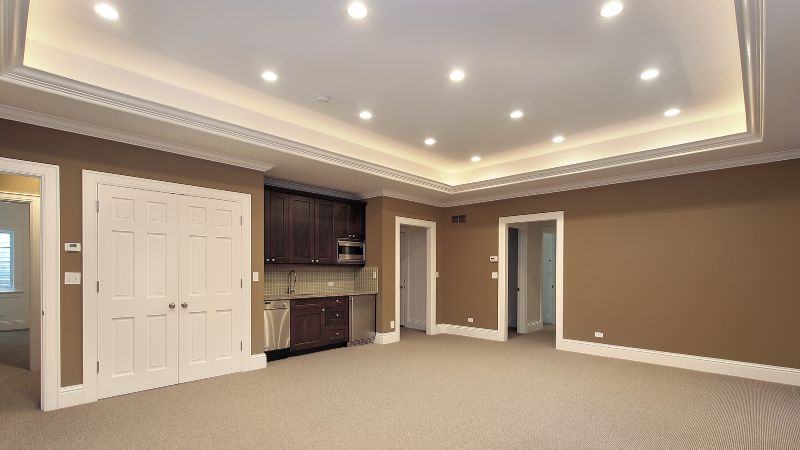 Recessed Lighting Installations
Recessed lighting also known as can lighting, or pot lights, or flush mounted lighting, is a great way to add task lighting or ambient lighting into your home or business. Recessed lighting is very popular for kitchens, bathrooms, living rooms, and even in commercial settings such as restaurants, retail displays, and professional offices.
Mission Electrical Service is a full service electrical contractor based out of San Diego, CA and serving the surrounding area. We specialize in the installation of recessed lighting and recessed lighting repair or replacement in homes and businesses. Whether you're looking to add some task lighting to a specific room, highlight some art work, or create a specific ambience the Mission Electrical Service team will be able to provide you with recessed lighting solutions.
Recessed Lighting Tips
Recessed lights should be located a minimum of two feet from the nearest wall.
Spacing can be determined depending on the diameter of the light fixture.
Recessed lighting can be used to highlight specific items or areas of your home.
Recessed lighting works well for specific tasks like cooking or reading.
Why Choose Mission Electrical Service for Your Recessed Lighting Installation?
When you choose to work with Mission Electrical Service to install your recessed lighting you're partnering with a small, local, company that has extensive experience in the electrical trades. We are licensed by the state of California and insured to work on the electrical systems inside of your home or building.
As an owner/operated company you can have the peace-of-mind knowing that any electrical work we complete will meet or exceed local electrical safety codes. The work we do will be safe, clean, and reliable and we also back all of our work with a lifetime guarantee on our workmanship.
If you'd like to receive an estimate to install new recessed lighting give us a call at 619-342-3367 or fill out our online contact form and someone will be getting right back to you.